The Farmers Journal recently spoke to some of our students to find out what makes a teacher special and inspirational. Here's what students Edwina Hilton (Glenageary, Co. Dublin), David Sheehan (Arklow, Co. Wicklow) and William Moylan (Clonmel, Co. Tippearary) had to say:
Maths teacher Aidan Roantree
Edwina: "Maths is not a strong subject of mine at all. I used to hate maths, but I actually really like it now. I think it's the way Aidan Roantree teaches his maths classes. Everything is so clear. He goes back to basics. He gives you a basic understanding and you can build on that."
David Sheehan: "I was shocked by how well he knows his own notes. All of our topics are broken down into different sets of notes. We're given handbooks of past Leaving Cert questions and solutions, they're really helpful. We're told to attempt questions without looking at the answers. Write down how we want to do the question and then compare it with what we should be doing. I've been using that approach and it's really helped. We go into a lot more depth on everything. You're given more understanding as to why you're doing it."
William Moylan: "I wouldn't be the best at maths. But Aidan Roantree is very clear. He doesn't rush anything. He's always very prepared. The teachers at the Institute always have an exact plan of what they'll get through and they always get through it. He explains everything very clearly, he doesn't over-complicate things. I have had teachers who are quite manic, but he's very calm. He puts you at ease and you can learn better."
Aidan Roantree is a senior maths teacher at the Institute of Education, where he has been teaching maths and applied maths for over 25 years. As the author of 12 major maths textbooks, including the recently published Effective Maths (CJ Fallon) covering the new Leaving Certificate project maths syllabus, he is acquainted with every detail of the maths course. Aidan has been a regular contributor to RTÉ and Newstalk, discussing topical issues involving maths.He is regularly called upon by branches of the Irish Mathematics Teachers Association to give talks to teachers on aspects of the maths courses. Aidan is teaching on our upcoming Leaving Cert Easter Intensive Revision Course.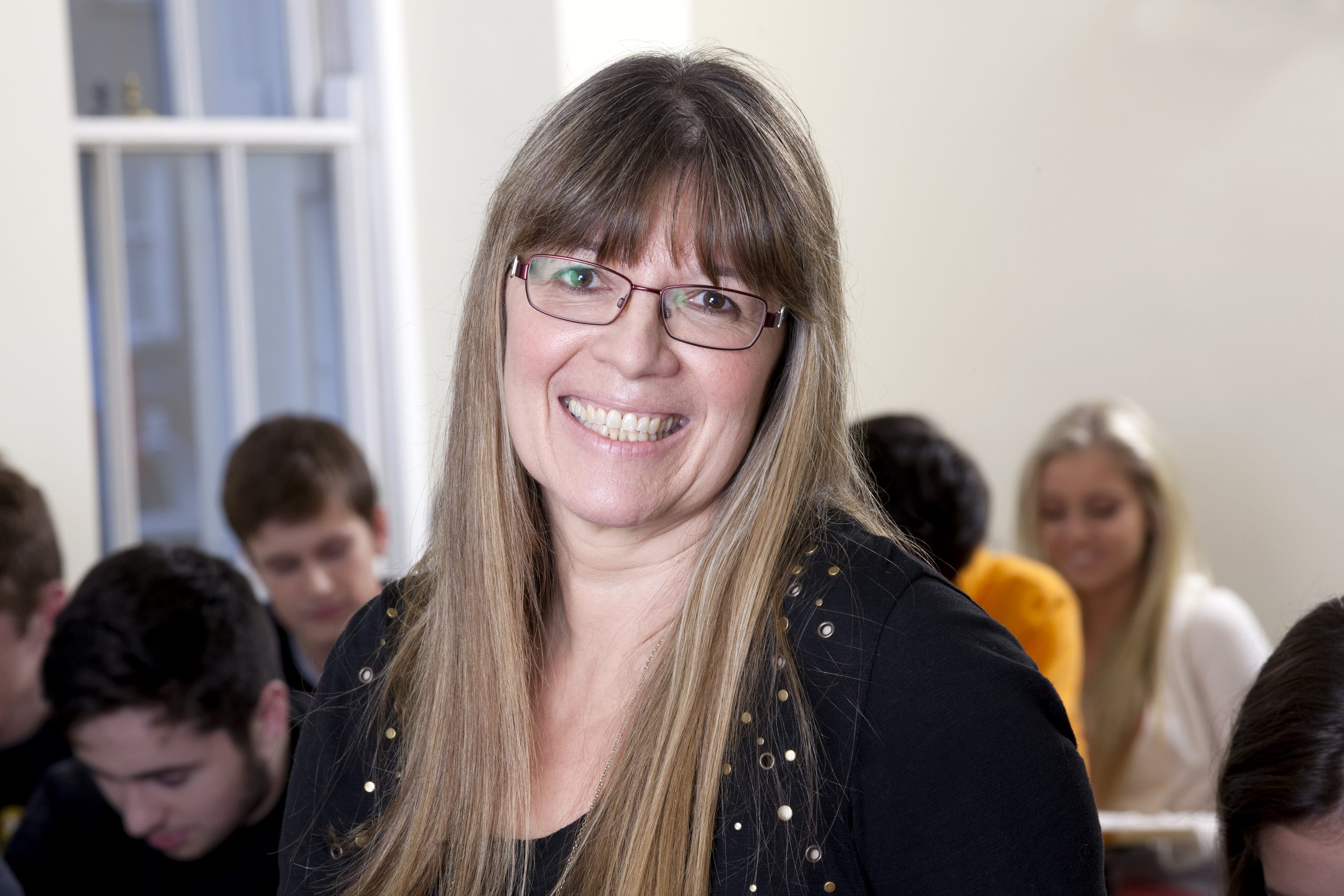 French teacher Corinne Gavenda
Edwina: "It's definitely the fact that my teacher Corinne is a native French speaker– she often conducts the whole class in French and you pick up colloquialisms that you can use in the oral. Your ears becomes accustomed to the French she's speaking with her accent. She's so organised. That's the same for all the teachers. You're not waiting 20 minutes for them to come to class and then deciding what they'll do. She's completely passionate about it. You don't get the sense she's bored."
David: She's very comprehensive with all the grammar points. Before I had no grammar. My pronounciation of words has improved a lot. Corinne does recordings of our handouts which she posts online. I've had to do a lot of extra work to bring my standard of French up and she has no problem correcting it and going through it. It's easier to focus when you can see the teacher has a passion. You're not apathetic."
William: "She's extremely helpful. She'll answer any question and she's very approachable. There's a big queue after class to talk to her. She always makes sure you understand everything. The fact she's a native speaker makes a huge difference. She's in a French mindset. It takes some people a while to get used to the class being conducted in French, but they adap. It's a huge help for the oral. At this stage I think in French when in class. I don't notice the difference when she's speaking English or French. I'm just listening to the words she's saying, not the language she's speaking."
Corinne Gavenda has been teaching at the Institute of Education for 30 years. She is a native French speaker and conducts her classes through French. Corinne took her primary degree in La Sorbonne, Paris, before coming to Ireland to take her Master's and higher diploma in education from Trinity College Dublin. She is former editor of the French magazine Authentik and worked in close collaboration with France Inter to compile material suitable for language classes. Corinne worked with the Department of Education giving in-service training to schools around the country when oral French was originally introduced onto the syllabus of the Leaving Certificate.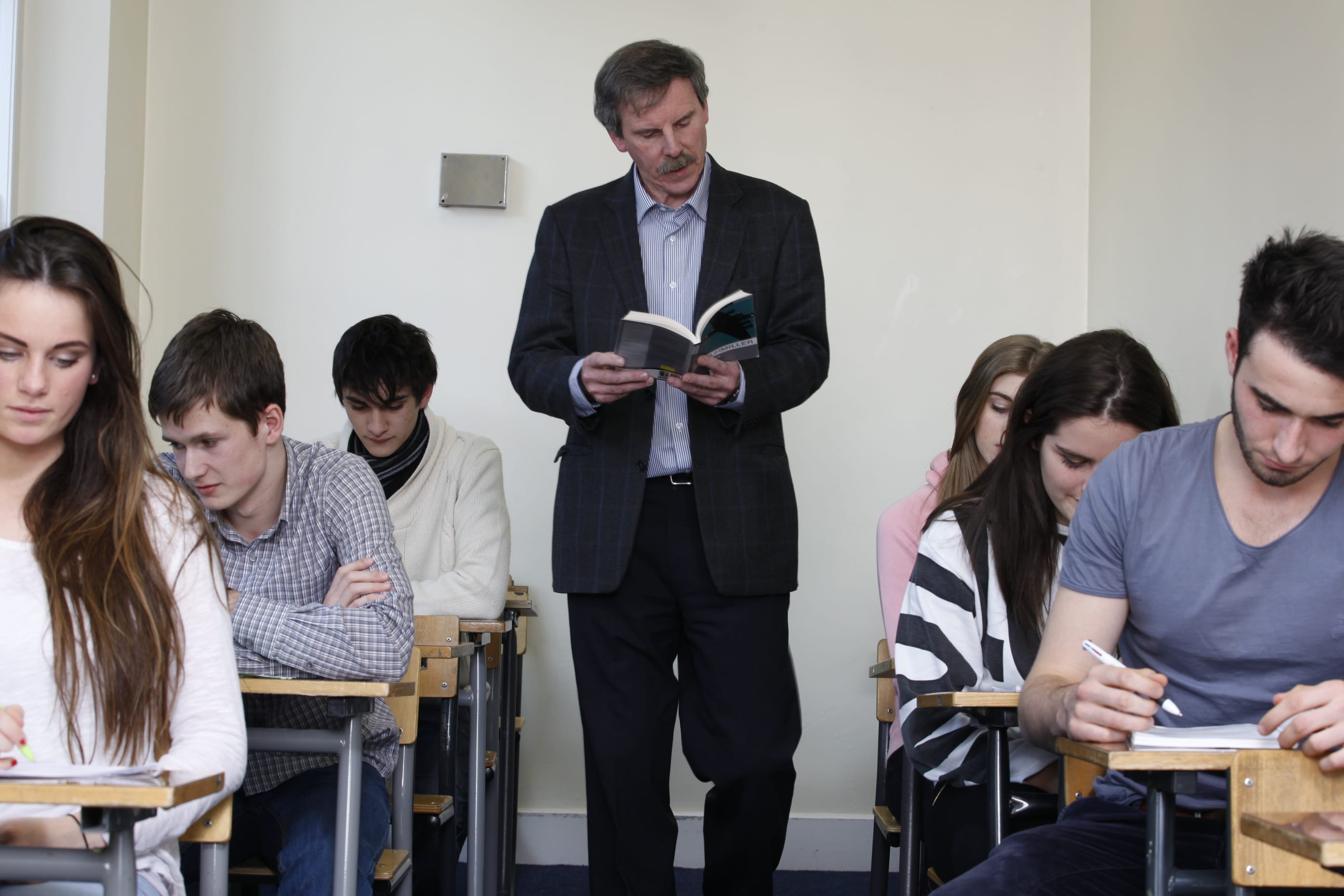 English teacher Martin Kelly
Edwina: "I don't know where the energy comes from – I have him at half eight on a Friday morning, but you would never fall asleep in his class. The way he teaches is through examples. He'll have three or four articles every week from The Irish Times and the Irish Independent. I've never had that before. It just gives you such a wealth of information. People were so scared of the essay questions, but we've done a huge range of them now."
David: "Before, I didn't have a good understanding of descriptive language. Martin shows us past examples of A1 answers. He shows you how to structure answers.He's my teacher for Paper I and that's all he teaches me – writing techniques. I have another teacher for Macbeth, a teacher for comparative and a teacher for poetry. They all specialise in those areas – their classes are solely dedicated to that topic. He takes extra work and corrects it no problem. He gives you feedback and tells you the points you could have made."
William: "My English teacher Martin Kelly is so enthusiastic, I feel quite energised when I come out of his classes. You couldn't fall asleep even though it's half eight on a Friday morning. He inspires. He tells you how to do it and inspires you to be creative. There are four different English teachers for four different subjects. That means Paper I time can't be taken up with poetry or Macbeth. You do need to give the time to Paper I. People think it's an exam you can't study for, but you do a lot of preparation."
Martin Kelly has been teaching at the Institute of Education for 20 years. He has been teaching English to Leaving Certificate honours for over 30 years and has been an examiner at that level for much of that time.
To read the full article published in the Farmers Journal click here.