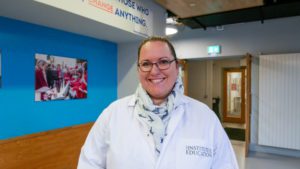 Catriona Hendry is a teacher of Agricultural Science. She has vast experience delivering both the theory and laboratory components of the curriculum.
She has a great rapport with her students and enjoys mentoring and interacting with them to encourage learning and understanding.
Catriona also teaches Biology and Agricultural Science practicals in the Institute.
Catriona holds a BSc in Zoology and Animal Ecology and an MSc in Ecology and Animal Behaviour. She has also conducted a post-graduate research study into Evolutionary Biology through the George Washington University in Washington DC, USA.