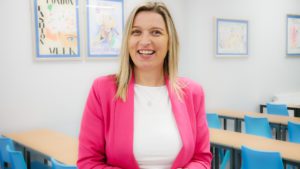 Nuala Uí Cheallaigh is an Irish teacher with over 20 years teaching experience.
Nuala's unique teaching style inspires students to be more confident and self-assured in the subject. She provides her students with the skills necessary to master both the Irish language and the requirements of the syllabus. Nuala has a deep understanding of the Junior Cycle and Leaving Certificate examination process having worked as a corrector with the State Examinations Commission (SEC) for 13 years. She is currently a member of the Leaving cert Higher level corrections team. This offers her unique insights into the marking scheme for the paper and what students need to do to achieve high marks in the exam.
Nuala holds a BA from University College Dublin, a H.dip from Trinity College Dublin and an M.Ed from the University of Ulster.
Nuala is highly experienced in working with and mentoring adult learners and works as an Academic Tutor on the University of Limerick's teacher training programmes and PME courses. In addition, she is a Placement tutor for B.ed and PME students on their placement in schools with the University of Limerick and the National University of Ireland Maynooth.
Nuala has provided Dian chúrsa Gaeilge for students of Dublin City University's B.Ed programme. She also edited an Irish textbook for the new Junior Cycle syllabus and was awarded the All-Island Entrepreneur Educator of the Year in 2007.