What would Christmas be without amazing and delicious food? Sharing freshly prepared food with those around us is all part of the magic of Christmas. Creating something from scratch and seeing the joy on peoples' faces as they bite into something delicious that you made. Is there a better feeling, other than Christmas morning?
Our fantastic Home Economics teacher, Sandra Cleary, has so many amazing suggestions for what you can try to make this Christmas. We picked out, not one, but two that we think you'll love and have fun making… and tasting.
1. Christmas Crinkle Cookies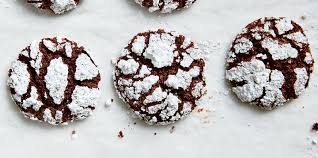 Ingredients
60g cocoa powder, sieved
200g caster sugar
60ml vegetable oil
2 large eggs
180g plain flour
1 tsp baking powder
2 oranges, zested
2 tsp mixed spice
1 tsp cinnamon
50g icing sugar
Method
STEP 1
Mix the cocoa, caster sugar and oil together. Add the eggs one at a time, whisking until fully combined.
STEP 2
Combine the flour, baking powder, orange zest, mixed spice, cinnamon and a pinch of salt in a separate bowl, then add to the cocoa mixture and mix until a soft dough forms. If it feels too soft, put in the fridge to chill for 1 hr.
STEP 3
Heat the oven to 190C/170C fan/gas 5 and tip the icing sugar into a shallow dish. Roll heaped teaspoons of the dough into balls (about 20g each), then roll in the icing sugar to coat. Put the balls on one large or two medium baking trays lined with baking parchment, ensuring they're evenly spaced apart.
STEP 4
Bake on the middle rack of the oven for 10 mins, then transfer to a wire rack to cool – they will firm up as they cool, but still be fudgy in the centre. Will keep for up to four days in an airtight container.
2. Christmas Brownies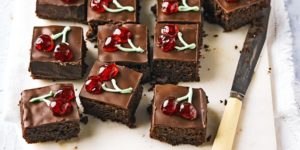 Ingredients
200g unsalted butter cut into cubes, plus extra for greasing
100g dark chocolate , chopped
100g milk chocolate , chopped
3 large eggs
300g golden caster sugar
100g plain flour
50g cocoa powder
½ tsp mixed spice
To decorate
9 sprigs rosemary
9 glacé cherries
1 egg white
2 tbsp caster sugar
4 amaretti biscuits , crushed
9 chocolate truffles (we used Lindt lindor)
Edible gold lustre spray
1-2 tsp icing sugar for dusting
A few chocolate buttons
Edible silver balls
Method
STEP 1
Grease and line a 20cm x 20cm brownie tin. Heat oven to 180C/160C fan/gas 4. Put the butter and both types of chocolate in a heat proof bowl and either melt in the microwave (in 30 second bursts, stirring after each) or set over a pan of barely simmering water, stirring every now and then until the chocolate has melted.
STEP 2
Leave the chocolate and butter mixture to cool a little while you whisk the eggs and caster sugar in a large bowl using electric beaters. Once the mixture is pale, fluffy and looks like it's roughly doubled in volume, whisk in the melted chocolate. Fold in the flour, cocoa powder and mixed spice until no pockets of flour remain then pour into your prepared tin. Level the top with a spatula and bake for 20-25 mins. The top should look set and shiny but should be a little wobbly if you gently jostle the tin.
STEP 3
Leave the brownie to cool completely in the tin then chill in the fridge until set. While the brownie cools brush the rosemary sprigs and glacé cherries with egg white, dab off the excess with kitchen paper then dredge in caster sugar until well coated. Leave to dry on a wire rack. Put the chocolate truffles onto a sheet of baking paper or foil then spray with the edible gold lustre.
STEP 4
Dust the chilled brownie with icing sugar to create a snowy surface and top with amaretti biscuit pieces then poke the crystalised rosemary sprigs into the surface at random intervals (cut the brownie into pieces and dust on icing sugar first, if you like). Nestle a glacé cherry or gold truffle alongside the rosemary sprig then add the buttons and silver balls.